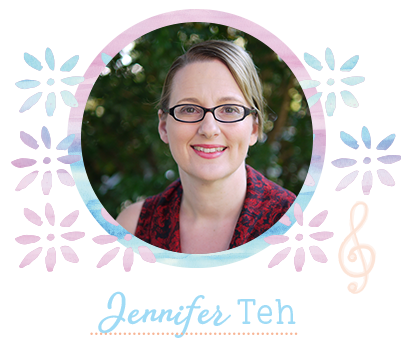 Jennifer Teh is the Founding Director of Hush Little Baby Early Childhood Music Classes. She strongly believes that music and singing should be a part of every child's life.
Over a vast career spanning more than fifteen years, Jen has taught everything from primary, high school and university music, directed choirs, taught private singing lessons, presented workshops, written papers for national and international conferences and symposia in music education and carved out a career as a professional live and studio singer. As a mother of young children and a believer that the very youngest children should receive the very best musical upbringing, however, Jen's passion lies in early childhood music education, and this is supported by a huge body of research around the positive benefits of sharing music with infants and children.
Jen comes highly qualified, with a Bachelor of Music and Bachelor of Education from the University of Queensland as well as an Australian Kodaly Certificate in Primary Music Education. Her accolades include an Australian Government National Award for Quality Schooling and a Queensland College of Teachers Excellence Award. In addition to working extensively with choirs of all ages and backgrounds as a music director, Jen has been invited to work with numerous children's and adult choirs as a workshop facilitator and guest conductor.
Samford Community Hub in the Moreton Bay suburb of Samford Valley is the main venue for Jen's beautiful community early childhood music classes. She and her team also provides mobile classes for mothers' groups, playgroups and birthday parties.
Jen has developed comprehensive and highly regarded whole-centre music programs for a childcare centres in Brisbane and on the Gold Coast and Sunshine Coast. Through Hush Little Baby she works alongside educators to ensure that every child in every room room receives a minimum of one specialised weekly music class. In addition to this Jen also provides consultation and professional development for centres wishing to integrate music more thoroughly and effectively into their daily practice.
Through her baby, toddler and preschooler classes, Jen aims to give parents and caregivers opportunities to connect with their children and with others, as well as ideas, games and songs that can be taken home and enjoyed over and over again.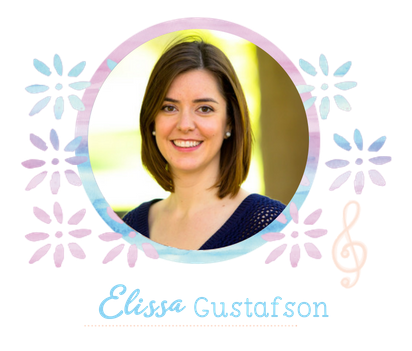 Elissa is a kind and caring mother of two young boys. She holds a Bachelor of Management, with a Major in Marketing. Elissa has worked extensively with young children as an assistant in Allied Health, a volunteer carer for children with disabilities and through her role as Hush Little Baby's Customer Experience Manager.
Elissa is passionate about giving infants and children the very best start in life, and the opportunity to work for Hush Little Baby was the perfect match for her passion and skills. Elissa works behind the scenes, ensuring the smooth running of the business. She is also the friendly voice at the other end of the phone for our valued clients in early education and care settings.
Elissa prides herself on ensuring that all of Hush Little Baby's clients are looked after every step of the way. She is proud to be working with such talented musicians delivering a world class music program to infants and young children.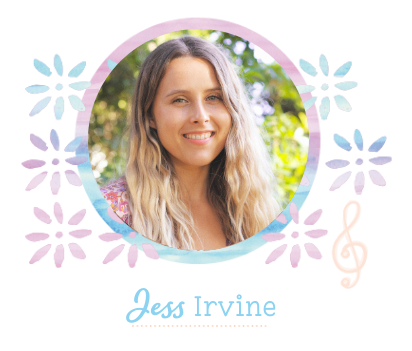 Jess is an accomplished singer, songwriter and performer who adores children and appreciates the importance and benefits of music education during early childhood. She holds a Bachelor of Music (majoring in Voice) from JMC Academy, where she attended as a scholarship student and college ambassador. Her work in both musical groups (The Counterfeit Umbrellas, The Lighthearts) and solo projects has seen her achieve commercial success, including nationwide commercial radio play and television appearances; and the opportunity to take to the stage at well-renowned festivals and events such as Caloundra Music Festival and Toowoomba Carnival of Flowers. Jess currently performs gigs across Brisbane and is preparing to release her debut original music as a solo artist. She is also the host of her very own podcast, 'Divine By Jess Irvine' – "a podcast for creatives, dreamers and spiritual seekers." 
Jess's intuitive and empathetic nature ensures that all children are able to enjoy her music classes. She loves sharing her passion for music with the babies, toddlers and young children who attend the Hush Little Baby music classes that she teaches. As Teacher Support and Training Manager Jess also works closely with all of our teachers in providing ongoing training and support, to ensure an outstanding music program continues to be delivered to all of our early education and care services.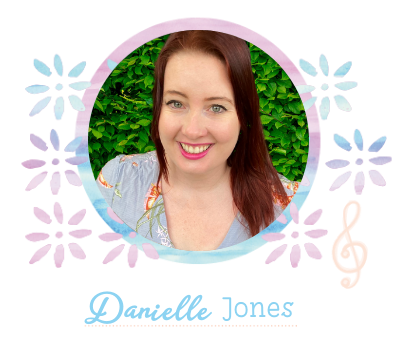 Danielle holds a Bachelor of Music Performance majoring in Vocals and Piano from JMC Academy. During her time studying she was nominated as a peer mentor by her lecturers and was awarded an exclusive internship in music teaching. Danielle is a solo country music singer, pianist and songwriter with a recently released debut single being played on country music radio stations worldwide.
As a mother to two young girls Danielle loves to share her passion for music with young children. She considers it a blessing to enrich young children's lives with music, believing strongly in the scientific research that links music learning to the holistic growth and development of children. Danielle is thrilled to be a part of the Hush Little Baby team.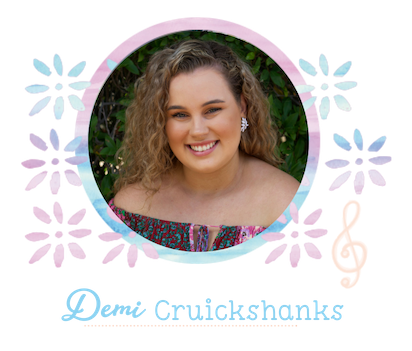 Demi holds a Bachelor of Music from JMC Academy, majoring in Voice. Demi started singing when she was 4 years old, and hasn't stopped since! Now, she gigs around Brisbane's live music scene in a duo act and as a solo artist, playing covers and original songs. Demi relates to a wide range of audiences with smooth vocal runs, heartfelt lyrics, mesmerising harmonies, and her captivating, charismatic stage presence.
Children light up around Demi – she is kind, fun-loving and passionate. She loves sharing her passion for music with the babies, toddlers and young children who participate in her Hush Little Baby music classes.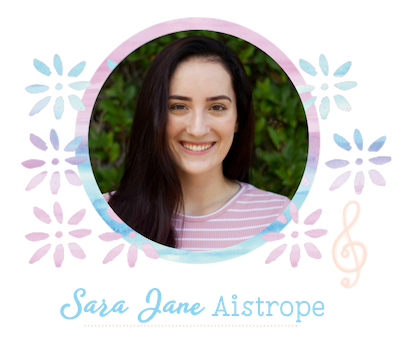 Sara Jane is a professional singer and dancer with a passion for Musical Theatre. An experienced performer, she holds a Diploma of Performance, and a Graduate Certificate of Music in Vocal Pedagogy from the Queensland Conservatorium of Music. As well as regularly performing as a singer and dancer at corporate and charity functions across Brisbane and Sydney, Sara Jane takes great joy in sharing her passion for the arts with others. Throughout her career, she has taught music and dance to a wide variety of age groups across Australia.
Sara Jane relishes the opportunity to foster an early love and appreciation for music in children, and firmly believes in the holistic benefits of music for all. She is delighted to be a part of the Hush Little Baby team.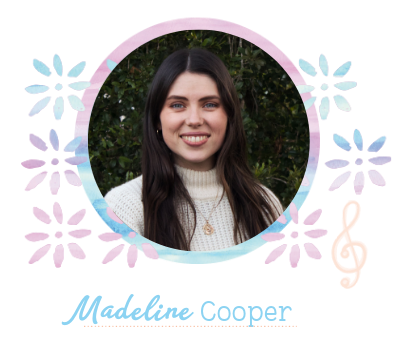 Madeline is a singer-songwriter with a welcoming, approachable nature. She recently completed her Bachelor of Music at JMC Academy with a double major in Vocals and Songwriting. With her beautiful, expressive singing voice, Madeline currently performs at weddings and events around Brisbane in a  folk/pop duo.
Madeline has worked with young children in a number of settings, including as a children's retreat and youth group facilitator. As a natural born leader, Madeline captures children's attention and delight in her music classes, and her playful personality and upbeat energy ensure that learning is made fun for children of all ages.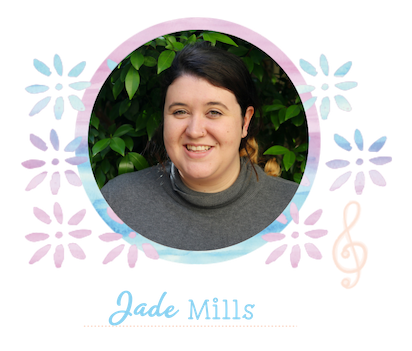 Jade is a recent graduate of JMC Academy, and holds a Bachelor of Music majoring in songwriting and specialising in Voice. Jade is a dedicated and skilled musician, and upon her graduation received the Elizabeth Cass Award for outstanding achievement and contribution.
Jade has extensive experience working with children of all ages in Primary School and Early Childhood settings, and is passionate about ensuring that music is a part of every child's life. With warmth and kindness, Jade ensures that the students in her classes all feel included, and her cheerful nature along with her beautiful singing voice engages children of all ages.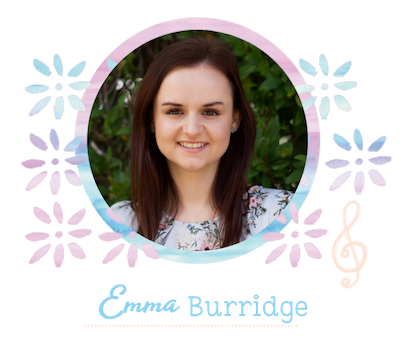 Emma
 is a passionate young singer from Brisbane who has been performing and learning music since she was 5 years old. 
Emma
 spent most of her teenage years performing in musicals and concerts around Queensland, going on to pursue a Bachelor of Music majoring in Classical Voice from the University of Queensland.
Throughout her university studies, Emma ha s had the opportunity to work with many distinguished musicians both from Australia and overseas as well as conduct an internship with Opera Queensland. Additionally she has studied Music Psychology and Linguistics, which have informed her music teaching.
Emma enjoys many genres of music and loves to share her passion and excitement for music with young children. She is an engaging, patient and kind teacher with a beautiful voice and a strong belief in the importance of music learning in early childhood.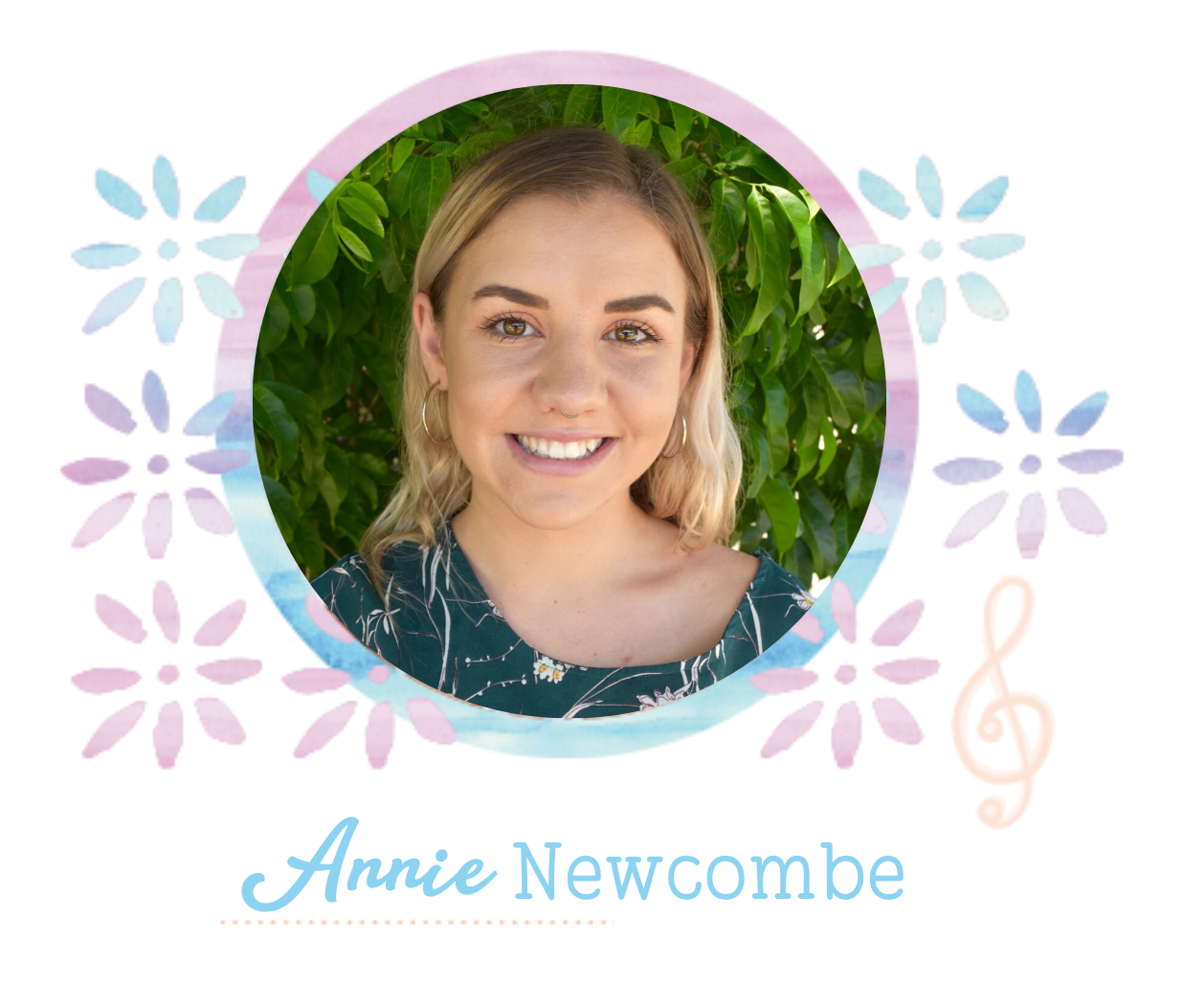 Annie is an experienced vocalist and songwriter who loves singing to and with children. She holds a Bachelor of Music Performance, majoring in Vocals, from JMC Academy. In 2019, Annie was a finalist in the Brisbane City Council QUBE Effect Awards for emerging and professional Brisbane musician. A prolific performer, Annie has played shows such as Big Sound and Sofar Sounds, as well as performing regular gigs singing both solo and as part of her band.
Annie has always been surrounded by music, and as a child and teenager sang in choirs and musicals regularly. She recognises the value of music being in children's lies from as early as possible, and through her work with children's choirs has discovered a love for helping young children to engage with music. Annie's bubbly personality and happy nature make her Hush Little Baby music classes fun, engaging and full of joy.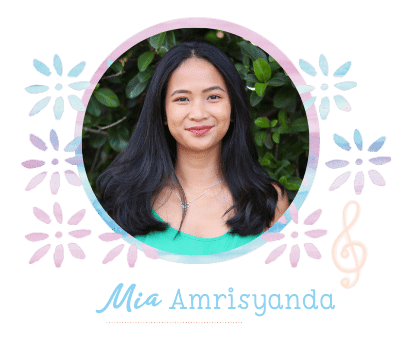 Mia is a passionate singer-songwriter with a positive outlook and playful nature. She holds a Bachelor of Music, majoring in Songwriting, from JMC Academy. Mia has substantial performing experience as part of choirs, vocal groups and musical theatre productions in her home country, Indonesia. She has performed as a session singer in recording studios across Brisbane alongside working on her own original music.
Mia enthusiastically recognises the importance of music in early childhood, having been involved in music from a young age. Through her work with young children in choirs and music classes, she has captured the attention of many children with her expressive singing and cheerful and light-hearted demeanour. Mia loves engaging in fun and exciting musical learning experiences with young children through her Hush Little Baby music classes.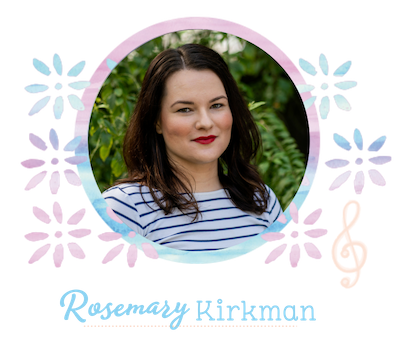 Rosemary is a singer and pianist with a passion for working with young children. She holds a Bachelor of Contemporary Music, majoring in Voice, from JMC Academy. Rosemary has worked with children in various youth choirs including the Queensland Show Choir. She has also created and performed in several pieces of children's theatre, including the recent "The New Tales of Quinn" at The Brisbane Powerhouse. A well-established musician, Rosemary is conductor of the Cannon Hill Anglican College Community Choir, and teaches Piano to students of all ages.
Rosemary has never seen a stage she didn't want to be on, but her dual loves of pop music and musical theatre have led her towards the world of cabaret and writing her own material. She is also a keen comedic improviser. As a teacher, Rosemary loves watching her students grow and develop through music. Rosemary's warm, calm and friendly teaching approach is appreciated by the children in her Hush Little Baby music classes.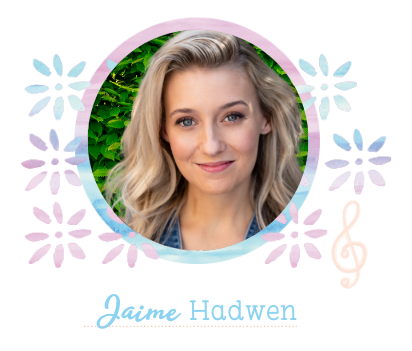 Jaime is a professional Music Theater performer who has always had a passion for working with children. She holds a Bachelor of Music from the Australian Institute of Music and is undertaking a Masters in Primary Teaching. Jaime's career highlights as a singer have included touring Australia in Muriel's Wedding and traveling around the world as 'Sandy' in Grease with Royal Caribbean International.
Jaime has also sung to and with thousands of children through her roles as 'Cinderella' in the Bonnie Lythgoe Pantomime Cinderella at Sydney's State Theatre, touring with the ABC and Live Nation for the Giggle and Hoot Christmas Show and as Tinkerbell in Peter Pan and Tinkerbell Return to Neverland. Her Disney dreams came true when she was cast as Ariel in The Little Mermaid (Birdie Productions) in 2018.
Jaime has always had a passion for children and children's entertainment, and she has worked extensively with young children. Her love for children and music is evident in her Hush Little Baby music classes, and children love Jaime's bubbly nature and genuine warmth.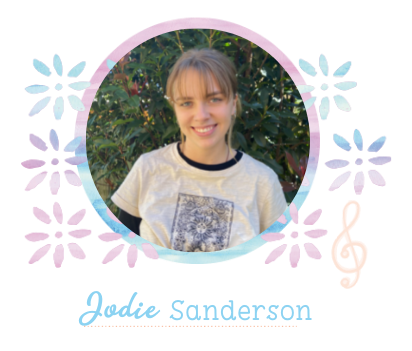 Jodie is a singer-songwriter who is passionate about sharing music with all. She holds a Bachelor of Music from JMC Academy with a major in Songwriting. With her band, Jodie was a finalist in Brisbane City Council's 2021 QUBE Effect. She also took part in BIGSOUND 2020 as a performer and performs regularly at venues across Brisbane. In her own music, Jodie loves to tell stories through her lyrics, and believes that can be a catalyst for the creation of community.
 Jodie believes that music is extremely beneficial to young children and is passionate about introducing children to The Arts. Her friendly, fun and respectful nature makes her Hush Little Baby music classes engaging, positive and energetic. Jodie loves to share the gift of music with the children in her classes.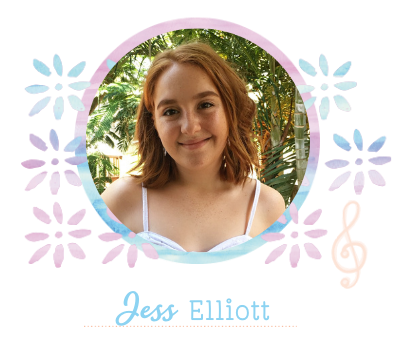 Jess is an experienced vocalist who holds a Bachelor of Music, majoring in Songwriting, from JMC Academy.

Recently awarded "Best Original Song" at the JMC Academy Cassette Awards, Jess is a skilled songwriter and performer. She is a finalist for the 2021 QUBE Effect Awards, for emerging artists. Performing under her solo project name 'Oh Bailey' Jess has been making waves in the Brisbane music scene, playing shows such as Mountain Goat Valley Crawl, QPAC Green Jam and more.

Growing up with music in her family, Jess appreciates the importance of music in early childhood. Jess' sparkly personality shines through in her Hush Little Baby music classes, and she strives to make sure that all of her students feel involved, inspired and cheerful.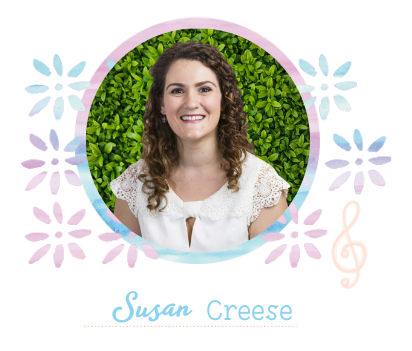 Susan is a highly experienced music teacher who has taught music to students of all ages, from newborn babies to adult learners. She holds a Bachelor of Music in Piano Performance and Pedagogy from the Queensland Conservatorium of Music, a Graduate Diploma in Education from the University of Queensland, and a Master of Arts degree in Kodály Music Pedagogy from the Kodály Institute of the Liszt Academy in Hungary.  Susan is currently a Junior and Middle School Classroom Music Teacher at Ambrose Treacy College and is the current National Secretary of the National Council of the Kodaly Music Education Institute of Australia.
Susan has extensive experience as a choral conductor and singer, having worked with The Australian Voices and Brisbane chamber choir, Fusion. She has an interest in teacher development and lectures in musicianship, conducting and methodology around Australia. Susan runs Hush Little Baby's Graceville Community Classes, and both children and adults alike love spending their Monday mornings making music with her.