We run mobile music classes for parents' groups, libraries, playgroups and more across Greater Brisbane. Enquire about our mobile classes using the form below.
Enquire about Mobile Classes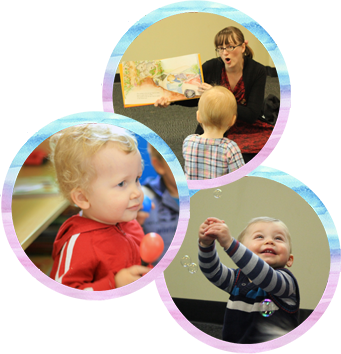 Hush Little Baby has been a wonderful experience for Georgia and myself. At 18 months she LOVES music but is also super active so the combination of music, movement and instruments has been perfect.
About Our Mobile Music Classes

We provide specialist music classes for playgroups, libraries, parents' groups and more. Each class is tailored to the ages and stages of the children attending, and is delivered by our expert teachers.
Our classes are for babies, toddlers and preschoolers, and our mobile classes cater for groups of all sizes and age combinations. We use a variety of props, including puppets, felt board stories, picture cards, bubbles and a range of percussion instruments.
Our teachers are all professional musicians who are highly experienced early childhood music teachers. They all possess Blue Cards and have completed the Australian Government COIVD19 Infection Control Training. You can learn more about our CovidSafe measures here. To find out more, obtain a personalised quote and book your classes, email info@hushlittlebabymusic.com or fill out the form at the top of this page.
Benefits of Music in the Early Years

Our specialist music classes are fun, child-centred and delivered by expert teachers. Children will explore musical concepts of pitch, dynamics, tempo, rhythm and beat, as well as developing in-tune singing. Our classes also help children to grow and develop their:
language skills
social and emotional wellbeing
physical development
understanding of maths concepts
cognition
Children will sing, dance and play with purposefully selected, age-appropriate resources, repertoire and percussion instruments. All of our music is performed live and without backing tracks with a focus on nurturing children's lifelong love of music.
Graceville Community Music Classes
We also offer weekly community music classes for Brisbane babies, toddlers and preschoolers and their caregivers in Graceville. You can make a discounted term booking or just attend occasionally, paying a casual rate. Fill out the booking form on our Community Class page to enquire.
Early Education & Childcare Service Music Classes
If your little one attends an early education and childcare service, check our Locations list to see if we visit their service. If not, get in touch with us by filing out the form on this page and we will send some information along!